How to Respond to Your Family's Concerns About Studying Abroad?
Do you need help on your family's concerns about you studying abroad? GlobeDock is here to consult you.
---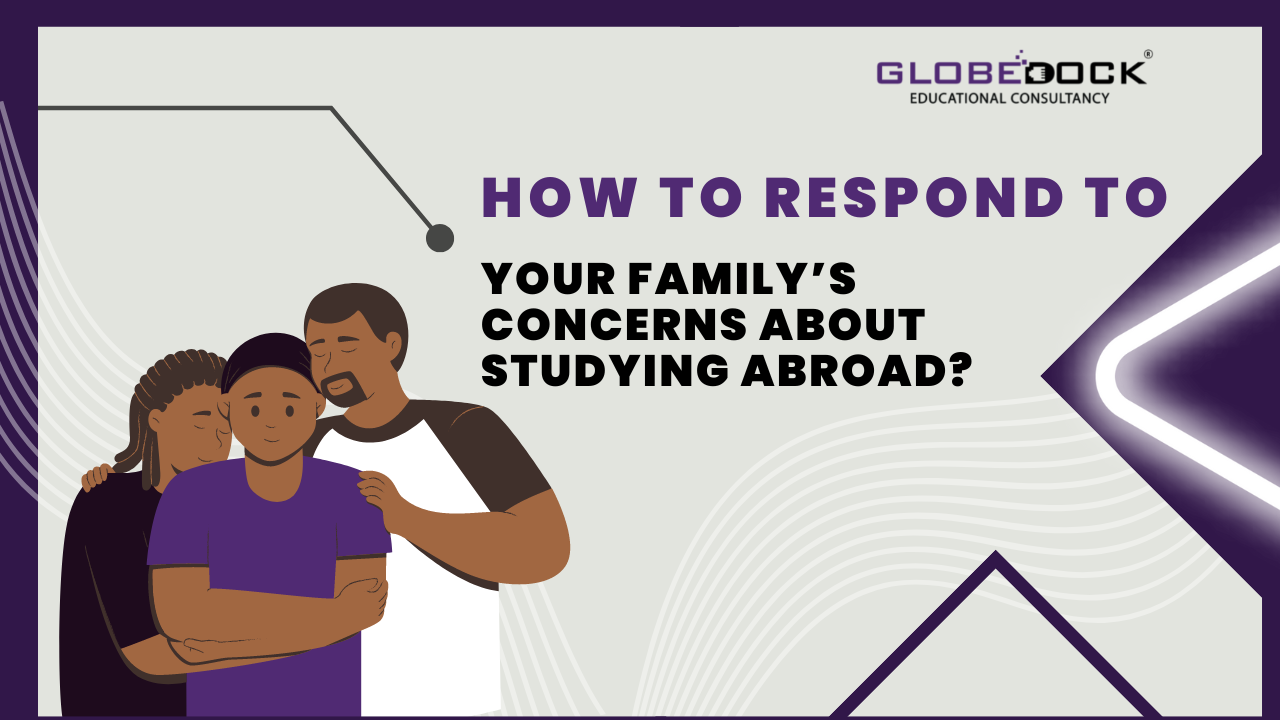 How to Respond to Your Family's Concerns About Studying Abroad?
Do you wish your parents could understand your brilliant idea to study abroad but don't know how to persuade them? It may be difficult to discuss your desire to study abroad with your family and friends, but it does not have to be. When would be the best time to start the conversation? How would you respond to and win over your family's concerns? We'll show you how to address your family's concerns about studying abroad!
Begin by comprehending your parents' concerns.
Before you start repaying your parents' arguments in your head, try to understand how worried they are about their child being alone in a foreign country. Keeping this in mind, make them understand that you intend to become a successful person in order to make them proud. So here's how you persuade them!
Step 1. Tell them why you want to Study Abroad.
Having a clear goal in mind for your international education endeavors will quickly alleviate any concerns your parents may have about studying abroad.
Discuss the Academic Benefits
Studying abroad exposes you to new teaching methods, improved facilities, and possibly new languages. Inform your parents about the educational advantages of studying abroad. International university professors are experts in their fields and can offer you advice that you would not get in your home country. You can participate in a variety of student organizations and initiatives at your foreign institution.
Highlight the Benefits to Your Career
Highlighting the various job opportunities available to you as a result of your study abroad experience will undoubtedly tip the scales in your favor. When it comes to your job, studying abroad will give you an advantage over others because future employers will take into account the intangible qualities you gained while studying abroad. Depending on your academic achievements abroad, you may be hired sooner and paid more. Your parents will undoubtedly consider your bright future if you speak of it.
Show them you're serious
Approaching your parents and declaring your desire to study abroad will not show that you're serious about it. Introduce the idea of studying abroad early on and show your willingness to put forth the effort. Gather all relevant information about the potential location and university based on your academic goals. Make certain that you meet all of the admissions requirements for the universities to which you intend to apply. Simply put, put on your best face and convince your parents that you are capable of making such an important life decision.
Step 2. Make a Financial Strategy
Your parents will undoubtedly be concerned about the cost of your study abroad program. Make an effort to obtain a scholarship. Look into alternative funding sources for authorized and certified programs. Studies loans are worthwhile to investigate because you may be able to repay the loan once you have completed your education. Make a budget and persuade your parents that studying abroad is less expensive than taking a similar course at home.
Want to study abroad but worried about the expenses? GlobeDock will assist you by facilitating loans for USA applicants!
Step 3. Ascertain your Safety
Assure your parents that living in a foreign country isn't just about partying. Make it clear that you are committed to your studies and will take control of your life. Learn about your study abroad program's destination, health insurance, and emergency contingency plan. Provide your parents with the international office contact information for your prospective institutions.
Step 4. Tell them about Someone who has Already Studied Abroad
What better method to persuade your parents than to arrange a meeting with a friend or family member who has experienced the benefits of studying abroad? Your parents are welcome to inquire about their experience with him. This will not only respond to all of their questions, but it will also assist you in persuading them to let you study abroad.
Step 5. Inform them about your Well-Wisher who Supports you in your Journey
Introduce your well-wishers, such as relatives, friends, or any study abroad advisor, or set up a meeting in person or over the phone for you, your parents, and your study abroad counsellor. Hearing a professional (your study abroad adviser) confirm what you've been telling your parents may be enough to persuade them to reconsider. Our experts at Leverage Edu will assist you throughout your journey, from the beginning with proper counseling sessions to the end.
Step 6. Ascertain that you will Communicate with them on a Frequent Basis
Assure your parents that no matter how busy you are, you will communicate with them via Skype, chats, and phone calls. You can share the phone numbers of people you see on a regular basis, such as your roommate, caregiver, or classmates.
Don't let the fear of not receiving permission from your parents keep you from studying abroad. I hope you now understand how to respond to your family's concerns about you studying abroad! Parents frequently want to know the benefits of studying abroad and how it will work out. You can allay their fears and gain their support by demonstrating that you're prepared and committed to this endeavor.
So, are you prepared? You can schedule a free consultation with experts at +251969959595
---